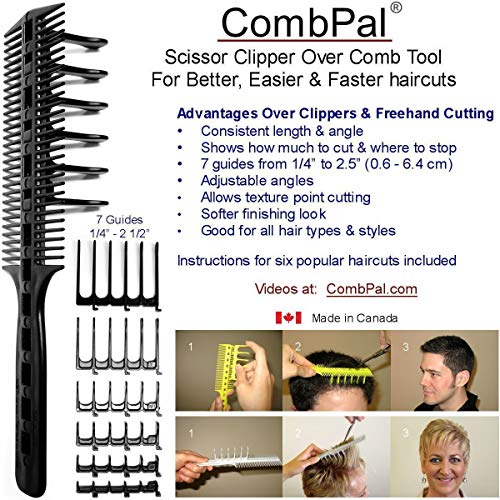 Cut Male's Hair Short layer
Scissor Clipper Over Comb haircutting Tool
Cut Women's Short Hair Layer Haircut
Scissor Over Comb Hair-Cutting tool
Cut Male's Hair Short Layer Undercut
CombPal Scissor Over Comb Guide
Cut Men's Layer Undercut Hair Tutorial
CombPal Scissor Over Comb Guide
Cut Female's Hair A-Line, Undercut Bob
CombPal Scissor Over Comb Guide
Cut Boy's & Kids' Hair Haircut Tutorial
CombPal, New Super Easy Haircutting Tool
Instructions
Attach the guide (see picture 1).

Comb up the hair, ensuring the guide sits straight up from the scalp (picture 2). For longer hair, pick
​ up the hair with your other hand first (picture 3).

Texture cuts – scissor point cuts (picture 4).

For angle control, move the guide backward or forward and angle the comb (pictures 5 to 8).

Blend different lengths together (picture 9).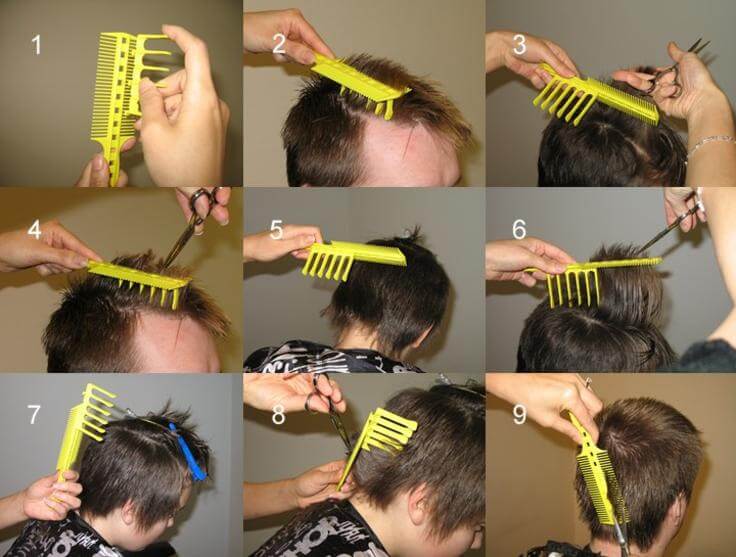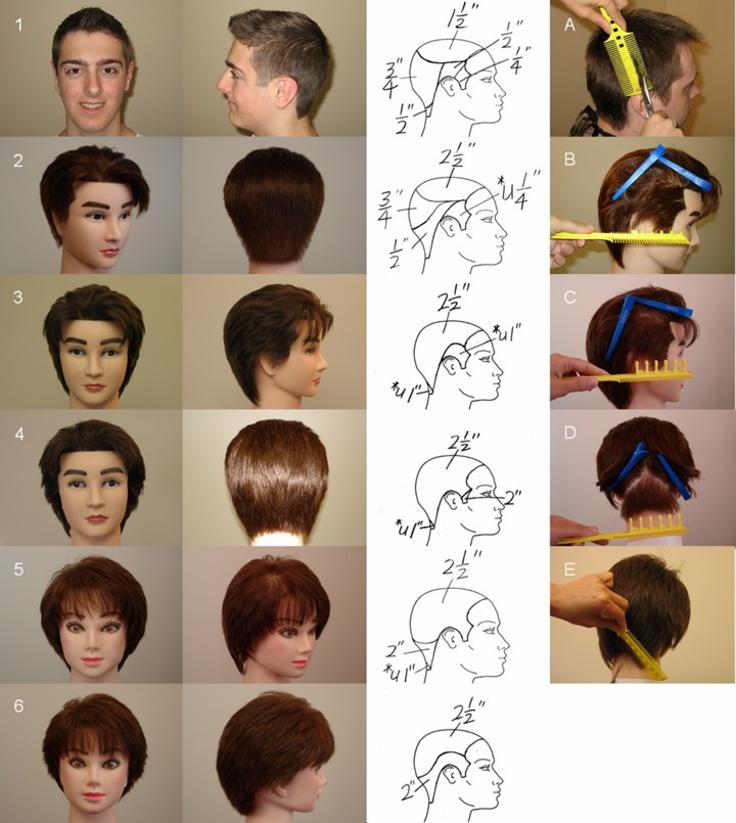 Here are instructions for 6 popular haircuts. Do excellent haircuts in only 10 minutes' time!
Tip for blending different lengths:

Using the curve of the head shape, move the comb straight up until it runs out of length to cut (see picture A).

*u – undercut means cutting the lower section shorter than the upper section and letting the longer hair fall over the shorter hair (see pictures B, C, D and E).
How to Use Combpal Jumbo Guide

Pick up tha hair with your other hand.

Place the comb through the hair ensuring the guide sits straight up from the scalp.

Let the hair fall on top of the comb and cut it with scissors or a clipper.
If you have fine or curly hairs, here are some tips for cutting.
1. Apply some firming gel or mousse to the wet hair evenly and blow-dry it straight.

2. When cutting the hair, try cross checking or repeat cutting the same area with the same guide for a couple of times to make sure you cut all the hairs.